So, since my Suzuki T250 1972 was waaayyy too loud I had to fabricate some silencers for the bastard. I looked high and low on the internets but found nothing that was of any use in terms of drawings and such. So I had to just do something from the top of my head instead, I winged it from start to finish so I haven't got a clue as to if it's correct or not. I started out with some sheet metal (as always) and bent it around a pipe (our fancy sheet metal roller that was used for fabricating the expansion chambers as well). Some ends and flanges were cut from the same sheet and the pieces are on the table in the picture above.

Here the silencers are mostly done and on the floor in front of the bike, they are nothing fancy but considering they were practically free (the fiberglass filling was the only thing that cost me anything and it was only 135 Swedish Kronor, that's about 20 bucks or something) and were really easy to make I'm quite pleased with the result. Hopefully they don't take too much of the effect out of the expansion chambers.

I mounted the exhaust pipes with the new silencers on the bike and also fitted the tail light, now I just have to connect the wiring to the light and mount the brake switch for the brake light. There's not that much left to be done on the bike as it is now, secure the seat a little better, mount the license plate, connect the license plate light and fix a leak in the fuel tap and it should be almost finished for now (if everything works ok it's going to get a real paint job and other small cosmetic upgrades).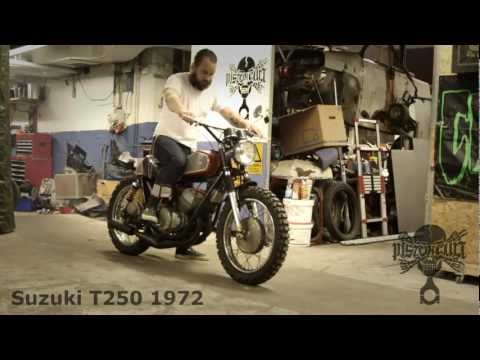 Of course I had to start the bike and see if the new silencers actually took the noise down. THEY DID! I'm amazed at how effective they actually are, my ears didn't even hurt after starting the bike in the garage! Since I didn't have any plans or measurements to go by I have to say that I'm really happy with the result.
Until next time -=/Anders